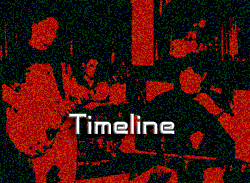 History of D'raild





Written by: Milan Lazistan



Fall 1998 - Milan and Edwin meet in NPHS Jazz Band. Milan is afraid of the older kids, Edwin refers to Milan as Big Red, Milan becomes even more nervous with Edwin's presence.

Spring 1999 - Milan is asked to perform some blues shows at Plainfield's Elks Club. He attempts to start a band with Edwin on drums and a guy named Joe on Bass... nothing ever develops(Bassist #1).

Summer of 1999 - Edwin and Milan begin jamming together.

Fall/Winter 1999 - Milan starts his first band, Live Dog. Milan (Guitar), Pete Maccavoy(Vocals), Sarah Bolger (Bass), Brad Tranquilli(Drums), they cut a demo and play at the NP street Fair.

Spring/Summer 2000 - Another band is formed. An instrumental blues/ rock band with Milan(Lead Guitar), Edwin(Drums), Chuck Howelet(Bass) Ben Son(Rythm Guitar)... alot of food has been eaten, no music has been created(Bassist #2). The band drifts off...Milan starts a side project with a band, Breaking Point, which shortly dissolves... Edwin and Milan begin looking for replacement bassists... Ben Son played Bass for one session and stopped (Bassist #3). Mike Mickulick was next and minutes later kicked out(Bassist #4). Im just kidding, I love you, baby. And then another dude, but he was weird (Bassist # 5).

Winter 2001- Edwin, Ben, Milan, and Eric (Bassist #6) play the Martin Luther King Memorial Service... Eric leaves for Los Angelous a week later not to be seen again for 3 years.

Spring 2001 - Edwin, Ben, Milan, and Inha(Bassist #7) begin playing together and create Cold Steel Rail. They attempt various times to become something , but fail... completely.

Summer 2001 - Milan vanishes for 4 months.

Fall 2001 - Cold Steel Rail plays their first and only gig at Vermueles Haunted House, featuring Kevin Malazdra (yet another Rhythm Guitar) and Carlos Castillo (Percussion).

Summer 2002 - Ben is kicked out . Milan, Edwin, Inha begin playing a lot... they shorten their name to D'raild, got their shit together, Milan went on lead Vox, music was written, began playing out, and D'raild has been Formed.