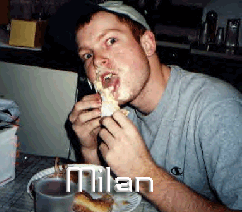 |More Milan|



Milan M. Lazistan III
Birthdate: November 15, 1983
Nickname(s): Miles, Mi-Dawg
Instrument(s): Guitars and Vocals
Playing guitar since: 13 years of age.
Currently attending: Raritan Valley Community College



Milan was the 2002 recipient of The Louis Armstrong Jazz Award,which is given to one high school senior for "Outstanding Music Performance".

Milan was asked to take the place of his guitar teacher at Tacher Studios in Middlesex at the age of 17, and still continues to give lessons.

He was also named Class Musician for the class of 2002.