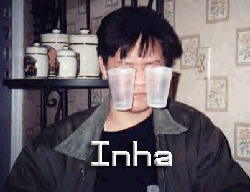 |More Inha|



Alex Inha Son
Birthdate: December 9, 1983
Nickname(s): The Asian Invasion, Prince
Instrument(s): Cello and Bass
Playing since:Cello since 8 years of age and Bass since 16 years of age.
Currently attending: Rutgers University



Inha was number one is his graduating class, 2002.
He was class valevictorian and he is also a classically trained celloist.